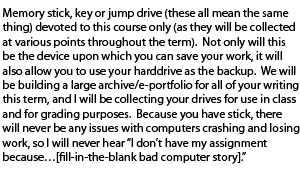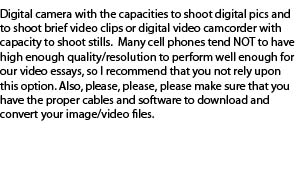 Only Revolutions, Mark Z. Danielewski (on order in the bookstore}

This American Life: 20 Acts in 60 Minutes (2008, NPR)--mp3 download

Pitt email account
Pitt UNIX server account
Twitter account for use in this course
Memory stick, key or jump drive (recommend 16G) This must be used for our class only.
Text-messaging
Digital camera with Video recording capacity -or- Digital Video Camera with still capacity.
Absolutely unfailing and regular computer and internet access.
Web, Sound, and Video editing software [we will discuss this: available in Pitt Labs or for purchase]
Active accounts for any and all digital communities used in class.
---
In-Class Writing/Media Practice
Complete all assigned Media/Readings such that you are prepared to Write and/or Make Media Responses without reference to the texts
Weekly blog entries
Weekly writing/media assignments
Podcast
Video
Animation
Final Project
Critical Feedback & Participation in class
Midterm Assessment Meeting with Prof. Bianco
---
The Bottom Line for this Course:
I make a commitment to my students as individuals and to the class as a collaborative whole to offer a challenging, rewarding, smart, fun, and captivating experience in our course and in our time spent learning and making together. In the end, it is my classroom, and I set the terms. So please be aware of my position regarding your participation in my class:
All policies, requirements, assignments, materials, expectations, rules, operating methods and procedures including but not limited to office hours, classroom practices, assignments and grading policies and methods, conferencing as well as informal and/or oral guidelines provided by Professor Jamie Skye Bianco are fully subject to change at Professor Bianco's discretion. If changes are made notification to students may be made in and/or out of the classroom, on one or several of our online community pages, the website, Twitter, or any other communication method established in the class. Changes are the immediate and ongoing responsibility of the students. check your twitter feed daily.
Check IN!
THE CLASS IS YOUR RESPONSIBILITY!
YOU ARE RESPONSIBLE TO ATTEND CLASS ALWAYS, READ COMMUNICATIONS REGULARLY, INSURE THAT YOUR PROPER EMAIL ACCOUNT IS REGISTERED WITH PROF. BIANCO, AND TO CHECK DAILY THE CONTENT OF TWITTER, EMAIL, COURSE WEBSITES, AND ANY OTHER DIGITAL COMMUNITY THAT IS ESTABLISHED FOR THIS COURSE.
AGAIN, IF ADDITIONAL COURSE PLATFORMS ARE USED, YOU WILL BE EXPECTED TO CHECK THESE DAILY AS WELL. STUDENTS ARE RESPONSIBLE, ACCOUNTABLE FOR AND SUBJECT TO ANY CHANGES MADE IN THE COURSE. THESE CHANGES MIGHT BE ANNOUNCED IN CLASS, BY EMAIL, TWITTER, AND/OR ON DIGITAL COMMUNITY SITES. CHECK THEM!
check the class twitter feed daily.
---
NOTES ON THE EVALUATION OF ASSIGNMENTS:
1. All assigned studio work, readings, listenings,playings and watchings must be practiced, read, listened to, and/or watched at least once and any assigned writing must be completed and uploaded prior to class meetings and according to the given due date and time.
2. This course is a seminar and studio workshop. In-class projects, writing, assignments or exercises must be made up in the event of absence or tardiness, even excused absences or tardiness.
3. You must adhere to your assigned dates and times. All assignments must be prepared prior to the class meeting, according to the due date and time, and fully complete and uploaded to your website. this means you have already exported or uploaded your work prior to the start of class. No credit will be given to assignments if components are missing or if the assigned date is missed. If hardcopy/specific file format is requested, it must be prepared before class…no exceptions. STUDENTS MUST COMPLETE ALL ASSIGNMENTS TO PASS THE COURSE. This means that if your assignment is late, it will receive a "0"; nevertheless, ALL assignments must be completed in order to pass the course.
4. Writing and speaking in response to each other (Written and oral Peer Responses) is a major component of the course. Care, consideration, productive and constructive criticism are expected.
5. All homework and composing for class must be produced as a digital document using the assigned software platforms, exported in the assigned formats, and successfully uploaded, copied, exported, and/or legibly printed and/or photocopied prior to class if hardcopy is required. If in-class writing assignments are completed by hand, you must write legibly. All assignments must be accurately and fully labeled.
6. Though in very few cases I am reviewing only final drafts, preparatory writing and drafts will be assigned and presumed for all writing and media assignments. Drafts are required assignments.
7. Late work will not count. Period. All assignments are due, fully uploaded and visible on the internet, by the start of class on the due date. After this time, they will be accepted with a "0" grade and are required to pass the course. Period.
8. All student work will be read, discussed, and/or evaluated in class through the use of online digital communities, a digital projector, and photocopies. this means your work will be available online, all the time, on your website. tiffany, sarah and prof. bianco will regularly look through your work to gauge your progress. keep your website updated.
9. Each assignment will be discussed in great detail in class. If you are absent, you will have missed this discussion. while one of the ta's will post class notes, they will not be comprehensive as the Ta's will be helping you in class as well. It is your responsibility to get notes from the TA and from your peers regarding the in-class demonstrations, discussions, and project reviews. Prof. Bianco does not hold the same class twice, once for everyone and once for you. so if you miss a lecture on technical how-to, you will be responsible to attend tutorial and office hours.
10. online MLA documentation or assigned documentation/citation/credit is expected for all research work, papers, projects and presentations. this is part of the creative commons licensing and good ethical practice.
11. BE BRILLIANT OFTEN…YOU ARE, SO SHARE IT WITH THE CLASS.
---
Use of Electronic Devices in Class
Use of Communication Devices & Computers in Class
In order for us to work together well, we need to construct the boundaries of digital device usage. First: turn off cellphone ringers for this and every public venue in which you attend or participate. This is a matter of basic etiquette.
unless given permission to use a specific media device or platform IN A PARTICULAR MANNER, usage is not permitted. This means that texting is not ok, unless the class is texting. This means that when we are using the computers,
you should not be on FaceBook unless the class is doing something with FaceBook.
tweeting is encouraged, but remember we share our twitter community with each other and the world.
when permission is granted, specific devices/platforms may only be used as directed by Professor Bianco. If you are confused at a given moment in class, please ask her and she will let you know what is permissible.
Absolutely no in-class recording of any kind without the written permission of Prof. Bianco and all students present in class. this is pennsylvania state law.
---
Tardiness
I DO NOT <3 TARDINESS. I H8 TARDINESS. THIS IS VERY SIMPLE. TARDINESS=RUDENESS. TARDINESS=DISRUPTION TO 22 PEOPLE OTHER THAN YOU. TARDINESS=UNHAPPINESS FOR PROFESSOR BIANCO=SERIOUS UNHAPPINESS FOR LATE STUDENT.
---
Absences
FIRST AND FOREMOST, THIS IS A "W" course (WRITING WORKSHOP) THAT REQUIRES YOUR ACTIVE PRESENCE AND PARTICIPATION IN AND OUT OF THE CLASSROOM. your presence at every class is critical also because we will be going over technical issues that won't be covered more than once.
NIGHT CLASSES COMBINE TWO CLASSES INTO ONE EVENING.
IF YOU MISS MORE THAN ONE CLASS, YOU ARE NOT LIKELY TO PASS. ONE CLASS IS AN ENTIRE WEEK.
YOU MAY MUST MAKE UP ANY IN-CLASS WORK NO LATER THAN THE FOLLOWING CLASS MEETING.
LET ME REPEAT: IF YOU ARE ABSENT FROM CLASS MORE THAN ONCE for the semester, FOR ANY REASON, EXCUSED OR OTHERWISE, IT IS UNLIKELY THAT YOU WILL PASS THIS COURSE.
YOU AND ONLY YOU ARE RESPONSIBLE FOR ACQUIRING MISSED NOTES, INFORMATION, ASSIGNMENTS, MATERIALS, AND ANNOUNCEMENTS. THIS DOES NOT MEAN SIMPLY ASKING PROF. BIANCO TO WRITE UP AND EMAIL NOTES FOR THE CLASSTIME THAT YOU MISSED. THIS MEANS ASKING THE TA, TWITTER, ONE OR TWO PEERS TO TAKE NOTES FOR YOU, CHECKING ALL ONLINE COURSE RESOURCES, AND MAKING SURE THAT EVEN IF YOU ARE NOT IN CLASS, AND WORK DUE IS.
PROF. BIANCO WILL BE HAPPY TO CONFIRM ANY INFORMATION COLLECTED FROM THE TA OR FROM PEERS, BUT SHE WILL NOT REDO THE CLASS FOR YOU. IN A STUDIO WORKSHOP, WE WORK TOGETHER, SO THIS IS IMPOSSIBLE EVEN IF SHE WERE WILLING (AND SHE IS NOT).
---
CONTACTING PROF. BIANCO
DO NOT WAIT UNTIL THE NIGHT BEFORE CLASS (Monday!!) TO CONTACT PROF. BIANCO TO CONFIRM WHAT YOU SHOULD PREPARE FOR CLASS.
PLAN AHEAD.
When emailing Prof. Bianco (AND ANYONE FOR THAT MATTER), fully identify yourself and indicate the class you are taking. Consider the context in which you are writing...is Prof. Bianco your neighbor, best friend, parent, or shoe salesperson? No, she is your professor. Use appropriate language codes for any given communication in order to a) not offend and b) optimize the desired outcome.
PROF. BIANCO DOES NOT WORK 7 DAYS/WEEK NOR 24 HOURS/DAY AND DESPITE THE INVESTIGATION OF OUR CLASS, SHE HAS A NON-DIGITAL LIFE AS WELL AS A DIGITAL ONE. SO SHE DOES NOT SPEND 24 HOURS/DAY LOGGED ONTO HER VARIOUS ONLINE ACCOUNTS WAITING FOR YOU TO CONTACT HER, SO PLAN AHEAD AND TAKE RESPONSIBILITY FOR YOURSELF IN THIS COURSE.
THIS MEANS THAT FROM YOU ARE REQUIRED TO CONTACT PROF. BIANCO AT LEAST 48 HOURS IN ADVANCE OF CLASS WITH ANY QUESTIONS.
Direct message via TWITTER IS PREFERRED and the fastest way to reach her.
please also know that this semester, prof. bianco is traveling quite often for conferences and symposia.
---
confused...
IF YOU DO ATTEND CLASS AND ARE CONFUSED, ASK QUESTIONS IN CLASS. THEN POSE YOUR QUESTIONS ON THE CLASS TWITTER FEED. TRY GOOGLE...YES, GOOGLE. THEN CONTACT OUR TAs, Claudia Shrivastava (@009_0001) and Sarah Vinski (@sarahvinski) and/or prof. bianco (@profjsbianco). ATTEND THE WEEKLY TUTORIAL OFFERED BY OUR TAs. PROFESSOR BIANCO HAS OFFICE HOURS POSTED ON THE WEBSITE...STOP IN. Contact Prof. Bianco if the office hours do not fit with your school and work schedules. she is happy to schedule online office hours through Skype.
THIS MEANS THAT FROM Wednesday-Monday YOU ARE REQUIRED TO CONTACT PROF. BIANCO AT LEAST 48 HOURS IN ADVANCE OF CLASS MEETING. "I DIDN'T KNOW" OR "I EMAILED YOU THIS MORNING" WILL NOT PROVIDE SUFFICIENT EXCUSE FOR UNFINISHED ASSIGNMENTS
---
plagiarism--let's not bore one another (Pitt Policy on Academic Integrity ... keep in mind what was discussed regarding intellectual property in the lecture on the first day of class.). That said, if you do it, you will not pass this course & may face University disciplinary action.
1. Every single assignment must be completed to pass the course. This includes making up any in-class work that you may have missed due to absence.
2. Any late work will receive a '0' grade, but all work must be turned in to pass the course.
3. Each student will produce a FINAL Digital Portfolio (DP) of all work (including project files as well as finished export files) produced for this course. The DP is a website that will be organized and maintained for presentation at the end of the semester. Save everything you do in this class on your thumb drive (including project files, blog entries & your website)!!
4. Grading is holistic and based on the improving quality of work. I do not assign A-F grades on individual assignments. You may revise any work completed on time until April 11, 2011. You may meet with me at any time during the semester to discuss your progress in the class and to discuss how you might improve your work.
5. Oral and general Participation in class is the a significant portion of your grade and the only aspect of the class that can only be earned by regular active and engaged on-time attendance in class. There is no way to reflect your participation in the DP.
6. A mid-term assessment/student-professor conference will be scheduled to discuss your progress.
7. Professor Bianco practices "minimal marking," a style of teaching that respects the student's work. She will not write or comment all over your work. She will discuss your work with you as often as you make yourself available in her office hours (online or in person). Furthermore, you will receive constant in-class "collaborative feedback" from Prof. Bianco and from your student peers. In the end, your university career, your work, your education, your progress in this class...are yours--your responsibility, your achievement, your brilliance. Learning to evaluate the quality of your own thinking and composing is the number one goal for this course.
8. if professor bianco assesses your progress and your work and determined that you are falling behind, she may determine that your attendance at the weekly tutorials is mandatory.